Asbestos Claims / Mesothelioma Claims / Asbestos Litigation Attorney
Asbestos Litigation Attorney
A Brief History of Asbestos Lawsuits
The first Asbestos lawsuit was filed in New Jersey in 1934
A general principle of U.S. law is that a person or company can be held accountable in court if they take negligent or reckless actions that harm another person.
Perhaps no industry acted with more negligence and recklessness than the asbestos industry.
Major asbestos manufacturers knew as early as the 1920's that asbestos could hurt or kill people who worked with asbestos.
On June 13th of 1934, the family of Benjamin Perone filed an asbestos lawsuit against Johns-Manville, which was the largest asbestos corporation in the world. The cover page of the lawsuit is pictured below.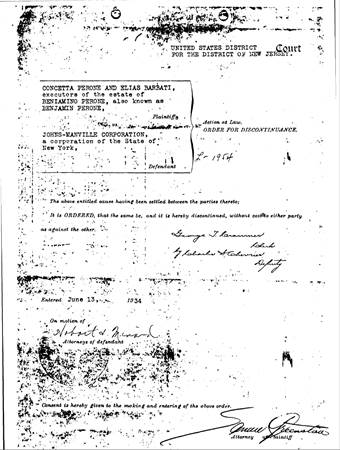 The Perone family sued Johns-Manville for negligently causing the death of Benjamin Perone, who worked with asbestos every day.
Despite being nearly 100 years old, this lawsuit uses language that wouldn't be out of place in an asbestos or mesothelioma lawsuit filed in the 21st century.
The excerpt of the lawsuit below explains how Johns-Manville's negligence led to the death of Benjamin Perone: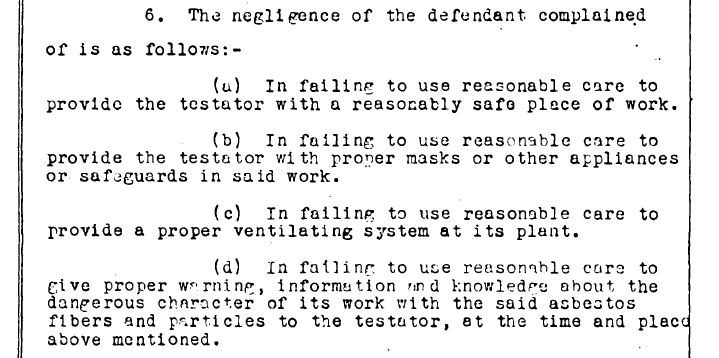 Johns-Manville's behavior was unreasonable and left them legally liable.
The word "reasonable" appears so often in the paragraphs above because winning a personal injury lawsuit always requires the injured person to show that the person or company who injured them did not behave as a "reasonable person" would in similar circumstances.
In this case, the Perone family argued that Johns-Manville behaved unreasonably by allowing Mr. Perone to be exposed to large amounts of asbestos.
Johns-Manville settled this and ten other asbestos lawsuits confidentially in 1934 for $30,000 dollars.
To put that in perspective, the average yearly wage for a worker in 1934 was about $1,200 dollars. All eleven asbestos lawsuits were brought by the same asbestos attorney, and as a condition of the settlement agreement the company required the attorney to agree to never "directly or indirectly participate in the bringing of new actions against" Johns-Manville.
No asbestos attorney could enter into such an agreement today because those agreements are now prohibited by law.
If those agreements had been prohibited in 1934, countless lives would have been saved. Johns-Manville and other asbestos manufacturers would have been unable to hide the dangers of their products.
It wasn't until the early 1970's that the dangers of asbestos products became revealed to the general public. The dangers were only revealed because of documents discovered in asbestos lawsuits.
Modern Asbestos litigation began in 1969
One of the most important asbestos/mesothelioma lawsuits ever filed was the case known to every asbestos attorney as "the Borel case."
The Borel Case
This famous asbestos case was filed by Clarence Borel on October 20th of 1969.
Clarence worked as an insulator and was exposed to asbestos insulation made by a number of asbestos companies. He had been diagnosed with severe asbestosis in January of 1969.
On February 11th of 1970, Clarence had surgery to remove his right lung.
During the lung removal surgery it was determined that he no longer only had the disease asbestosis. But Mr. Borel now had developed a type of cancer known as mesothelioma.
Clarence died on June 3rd of 1970.
After Clarence Borel's death, his personal injury lawsuit became an asbestos wrongful death lawsuit brought by his loved ones.
The Verdict in the Borel Case
On September 29th of 1971, the jury returned a verdict of $68,000.00 intended to compensate Clarence's widow for the loss of her husband.
The verdict was announced against a group of asbestos manufacturers:
| | |
| --- | --- |
| Johns-Manville Products Corporation | Pittsburgh Corning Corporation |
| Armstrong Cork Company | Philip Carey Corporation |
| Ruberoid Company | Fibreboard Paper Products Corporation |
Today, every one of those companies has an asbestos trust that pays individuals who were injured by asbestos products those companies made.
The asbestos companies appealed the verdict in the Borel case.
The asbestos companies hoped to overturn the verdict. Fortunately, they were unsuccessful.
The United States Court of Appeals for the Fifth Circuit heard the appeal and ruled in September of 1973 that asbestos companies could indeed be held liable for injuries their products caused. The Court held as follows:
"In reaching our decision in the case at bar, we recognize that the question of the applicability of Section 402A of the Restatement to cases involving 'occupational diseases' is one of first impression."
"But though the application is novel, the underlying principle is ancient. Under the law of torts, a person has long been liable for the foreseeable harm caused by his own negligence."
"This principle applies to the manufacture of products as it does to almost every other area of human endeavor. It implies a duty to warn of foreseeable dangers associated with those products. This duty to warn extends to all users and consumers, including the common worker in the shop or in the field."
"Where the law has imposed a duty, courts stand ready in proper cases to enforce the rights so created. Here, there was a duty to speak, but the defendants remained silent. The district court's judgment does no more than hold the defendants liable for the foreseeable consequences of their own inaction."
Borel v. Fibreboard Paper Products Corp. 493 F.2d 1076, 1103 (5th Cir. 1973) (Emphasis added.)
Types of Asbestos Lawsuits
There are two broad types of traditional asbestos lawsuits:
"Product liability" lawsuit for asbestos damage
A product liability lawsuit is filed against companies that manufactured, sold, or installed asbestos products. Clarence Borel's lawsuit was a product liability lawsuit.
"Premises liability" lawsuit for asbestos damage
A premises liability asbestos lawsuit is filed against the owner of a property who allowed a person to be exposed to asbestos on their property.
Product Liability Asbestos Lawsuits
Product liability lawsuits are filed against companies that made, sold, or installed asbestos products.
As the Borel Court explained, product manufacturers are required to warn against foreseeable dangers associated with the products they make.
The requirement for product manufacturers to warn of danger is especially great when the danger is not obvious to someone other than the manufacturer.
Asbestos manufacturers worked for decades to hide the dangers of asbestos products from the general public and of course from their customers. That is the reason why so many asbestos manufacturers have faced large jury verdicts on behalf of people injured by their products.
In product liability lawsuits, it isn't only the manufacturer of the asbestos products that can be held liable.
Distributors and retailers can be sued under the same law if they sell dangerous products. It's not uncommon for an asbestos product liability lawsuit to name over 100 different companies who were each responsible for a person's exposure to asbestos.
Our law firm maintains a vast database relating to companies that made, sold, or installed asbestos products. This database helps us identify every company that could be responsible for exposing our clients to asbestos.
Product liability lawsuits and Statutes of Limitation.
Every state recognizes product liability lawsuits. But each state has different laws that can affect asbestos lawsuits.
Perhaps the most important law pertaining to product liability lawsuits are what is known as Statutes of Limitation.
A Statute of Limitation sets a strict deadline as to how long a person has to file an asbestos lawsuit after being diagnosed with an asbestos-related illness.
Please contact us today by telephone or email if you're considering filing an asbestos and/or mesothelioma lawsuit.
We can advise you as to how long you have to file the lawsuit. Even if you don't contact us, we highly recommend you contact another asbestos law firm.
Don't just guess as to when the deadline is – these laws are often complicated and if you get it wrong, your lawsuit will be dismissed and you'll receive nothing.
Premises Liability Asbestos Lawsuits
The law has always held that property owners are required to keep visitors to their property safe by maintaining the property in a reasonably safe condition.
This requirement extends so far as to require property owners to warn visitors to the property about any hazards on their property that aren't necessarily obvious to the visitor. This area of law is generally known as "premises liability" law.
Premises liability laws apply to asbestos as well.
A typical premises liability lawsuit often involves a contractor working at a job site not owned by their employer.
For example, we represent a large number of Union workers who were sent by their Union to work at petrochemical plants and shipyards.
Most of our clients were never warned by the property owner that they could develop serious illnesses as a result of their exposure to asbestos on the property.
Premises liability asbestos lawsuits and Statutes of Limitation.
Just as every state has different Statutes of Limitation for product liability lawsuits, so too does every state have different Statutes of Limitation for premises liability lawsuits.
We highly recommend that you contact us or another asbestos law firm to at least determine how long you have to bring a premises liability lawsuit.
Getting the statute of limitation date wrong means your lawsuit will be dismissed and you'll recover nothing.

Wrongful Death Lawsuits
When a person or company's negligent actions cause the death of another person, the family of the deceased person can bring a wrongful death lawsuit against the negligent person or company.
The Borel case started as a product liability lawsuit brought against the manufacturers of products that caused Mr. Borel to develop asbestosis. When Mr. Borel died from mesothelioma, his family continued his lawsuit and it became a wrongful death lawsuit.
A wrongful death asbestos lawsuit is filed by loved ones of the asbestos victim.
A traditional asbestos lawsuit is brought by an injured person to be compensated for his or her injuries.
A wrongful death lawsuit is different. A wrongful death is filed by the loved ones who were left behind. Those left behind can file the lawsuit to compensate them for the loss of their loved one.
In a wrongful death lawsuit for someone injured by asbestos, compensation is available for the financial loss caused by the death of their loved one, including:

Loss of household income. This is income that would have been earned by the person who died from their asbestos injuries.
Severe emotional pain and distress. Losing a family member is extremely upsetting and even traumatizing. This is especially true when someone dies prematurely, or because of someone else's carelessness or wrong deed. The law recognizes this truth, and allows compensation for that emotional pain.
"Loss of consortium" claims. The law recognizes that relationships like a marriage include emotional and physical connection, care, assistance and support. When this support and connection is lost because of someone else's wrongful act or carelessness, the law allows compensation to the loved ones.
Who can sue in a wrongful death asbestos injury case?
Wrongful death lawsuits add an additional layer of complexity compared to asbestos lawsuits where the plaintiff is still alive.
That's because each state has different laws regarding who is eligible to sue for damages over the loss of a deceased loved one.
Some states allow family members to file the lawsuit.
Other states require the family to set up an estate and appoint an administrator to file the lawsuit on the estate's behalf.
We are able to represent you in virtually every state in the country.
Our law firm works with probate attorneys across the country to handle those matters, and we pay the costs of doing so with the understanding that we'll be reimbursed from any money our law firm recovers.
Contact the Law Offices of Justinian C. Lane, Esq. – PLLC to discuss your case and which laws apply.
Wrongful death asbestos lawsuits and Statutes of Limitation.
One more factor that can be complicated in an asbestos wrongful death lawsuit is calculating how long a family has to bring a wrongful death lawsuit.
As with product liability and premises liability asbestos lawsuits, the statute of limitations that applies depends on the state.
States differ on when a statute of limitation begins to "run":
Some states base the time limit upon the date of death of the loved one.
Other states start the clock running when the family learns that their loved one's death was caused by asbestos.
NOTE: Many people diagnosed with cancers are never told that asbestos could have caused them and find out months or years after being diagnosed.
If you're contemplating filing a wrongful death lawsuit on behalf of a family member, contact us as soon as you are able so we can advise you as to how long you would have to bring the lawsuit.
Compensation available in an Asbestos lawsuit
There are three types of damages that an injured person (or their family) may recover in an asbestos lawsuit:
Economic damages
Non-economic damages
Punitive damages
Economic damages for asbestos litigation.
Economic damages are those damages that come with a fixed price tag, such as medical bills, lost wages from being unable to work, etc.
These damages are purely economic, meaning no judge or jury has to decide exactly how much something is worth:
If a person paid a $5,000 medical bill, the damage is exactly $5,000.
Economic damages are easier to prove. There is no debate about how much $5,000 is worth.
The $5,000 can "make that person whole" again, which is the phrase the law uses when it means to fully and fairly compensate someone.
Our law firm tries to recover every dollar our clients are entitled to.
Every member of our team fights to recover economic damages such as:
Healthcare costs (Medical bills, ongoing therapy, and future medical expenses.)
Travel costs (Travel to treatment for their illness, including airfare and mileage.)
Inability to work (Lost wages and work opportunities in the future.)
Out-of-pocket costs (Any expense related to a person's asbestos-related injuries.)
Non-economic damages for asbestos litigation.
Non-economic damages are damages that don't come with a fixed price tag.
Non-economic damages do require a judge or jury to use their judgment.
In the example above, a $5,000 medical bill means a person is owed $5,000 to cover the amount of the bill.
But what if that bill was for the amputation of a hand?
A judge or jury would have to determine how much money fairly compensates someone for the loss of their hand. Such a value is subjective and will differ from person to person.
Damages for pain and suffering are non-economic damages, as are damages for the emotional pain of losing a loved one.
In the case of emotional pain, there is no price tag anyone can point to. Trauma and pain are subjective experiences we feel. A judge or jury has to estimate its value.
For this reason, non-economic damages can be more difficult to prove.
Receiving non-economic compensation from a judge or jury generally requires the skills of someone who knows how to present a case with the proper legal arguments, and have evidence to prove the victim's claims.
An asbestos attorney at the Law Offices of Justinian C. Lane, Esq. can discuss any non-economic damages you may have from an asbestos injury.
Punitive damages for asbestos litigation.
Economic and non-economic damages are designed to compensate the injured person.
Economic damages and non-economic damages are not based on the finances or conduct of the person who caused the injury.
Punitive damages are different.
Punitive damages are designed purely to punish the person who caused the injury.
Punitive damages are only available in cases in which the person who caused the injury did something especially wrong.
For example, a person who causes a car accident because they were momentarily talking to a passenger in the back seat would not likely be liable for punitive damages. A person who causes a car accident because they're drunk would likely be liable for punitive damages. And the fact that many asbestos companies purposely lied about the danger of their products is why so many of them have paid millions of dollars in punitive damages.
What's Needed to Win an Asbestos Lawsuit
No two asbestos lawsuits are the same, but all asbestos lawsuits do require us to prove three things.
There are three things (known in the law as "elements"), that someone must prove to win any asbestos litigation:
First, we have to prove that our client was exposed to asbestos.
Second, we have to prove that our client's exposure to asbestos caused our client's injuries.
Finally, we have to prove negligence on the part of the companies who exposed our clients to asbestos.
Proof of asbestos exposure.
Some of our clients can vividly remember the names of the asbestos products they were exposed to and how they were exposed.
But our average client has a hard time remembering which products they were exposed to and where.
Fortunately, we have a number of resources to help.
We maintain a massive database of asbestos litigation information.
Our database:
Includes thousands of asbestos products complete with pictures and dates of manufacturing dates of thousands of products containing asbestos.
Ties each asbestos product to specific job sites.
Our database contains invoices, shipping records, and other data involved in the milling, processing and manufacturing of asbestos products.
If a client tells us that they worked at Acme in Anytown, USA, we go to the database.
We can quickly run a search, and it will tell us which asbestos products were present at Acme. The database contains the evidence to prove a particular asbestos product was used in workplaces in that area at that time.
Contains tens of thousands of affidavits and depositions of individuals who remember specific products being at specific locations.
Helps us make sure we find every possible source of exposure our clients may have had to asbestos.
And for anything the database does not contain, our team of seasoned legal professionals track down and interview other people who may remember working with or around our clients.
Proof of an asbestos-related medical condition.
In virtually every asbestos lawsuit, the asbestos companies argue that either the person suing them isn't really sick, or that their sickness wasn't really caused by asbestos. Because it happens almost every time, we know how to counter those arguments.
We work with world-class doctors and medical experts from around the country. Some of the doctors we work with have special certifications held by less than 200 doctors in the country and less than 700 in the world.
Our database also contains thousands of medical articles that link specific medical conditions to specific types of asbestos exposure.
To our knowledge, no other asbestos law firm has a medical database as large as ours.
Many of our clients believed that because they were smokers they aren't eligible to file an asbestos lawsuit. This isn't true under the laws of many states. We have the medical evidence to show that smokers who are exposed to asbestos are far more likely to develop cancer than smokers who weren't exposed to asbestos. Cigarettes and asbestos are far more dangerous than cigarettes or asbestos.
Negligence by the companies that exposed our clients to asbestos.
In an asbestos claims lawsuit, in order to recover compensation from a particular company, an injured person must show how that particular company did something careless or wrong to cause the asbestos exposure.
We have information on all the major asbestos manufacturers.
With large asbestos companies, there are many records available. Remember, most asbestos companies started getting sued in the 1970's, and some of them have been sued thousands of times.
Our database has millions of documents on major asbestos manufacturers like Johns-Manville.
However, our law firm's asbestos database is not limited to large asbestos companies.
We have millions of pages of evidence about very minor companies. No matter how small or remote a worksite, we usually have the information.
Our law firm includes staff members whose entire job is to research these lawsuits, obtain relevant information from the lawsuits, and upload them into our database.
This enables us to quickly find the damaging documents relating to the companies who harmed our clients.
For example, the document below was used to prove that the company Owens Corning Fiberglas was resisting putting warning labels on their asbestos products as late as September of 1970: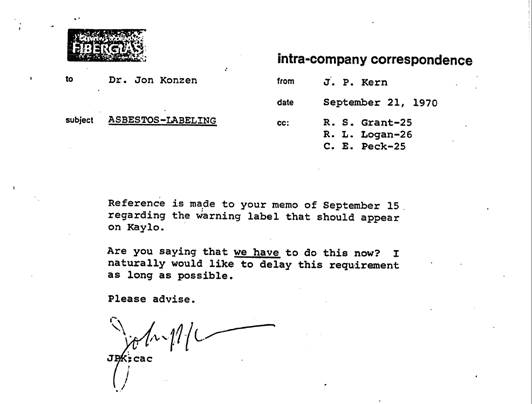 In addition to our internal database, we spend approximately $75,000 per year to maintain subscriptions to legal and medical database services. All of this means that we have access to the documents and records to prove that asbestos manufacturers acted negligently.
How our Asbestos Law Firm Can Help You Before you File an Asbestos Lawsuit
We find that the best way we can help clients who have been injured by asbestos is to give them an honest and straightforward analysis of the legal options they have available and how much time they have to decide which options to pursue.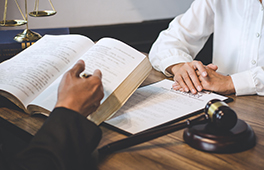 Statutes of Limitations for Asbestos Litigation
As we discuss quite often on this site, each state has different laws setting deadlines for how long a person has to file a lawsuit. We'll look at your specific case and tell you how long you have to decide whether or not to file a lawsuit.
We also work to give our clients a realistic expectation of what to expect in an asbestos lawsuit.
Trials and lawsuits are not like they are portrayed on television. Receiving compensation you deserve can be a relief. But sometimes litigation can be slow or frustrating.
We explain the good, the bad, and the ugly about our civil justice system. We won't just give you doom and gloom, or sunny skies.
Instead, you will always receive our informed and experienced professional opinion.
No law firm is ethically permitted to promise a winning result in a case. But we'll give you our honest assessment of how "good" your case is or isn't and why.
All of the legal professionals at this law firm are good listeners who will speak to you with respect and empathy.
We don't use "high pressure" sales tactics and we never, ever talk down to our clients.
To do so would be to add insult to their already serious injuries.
One of the differences between this law firm and other asbestos law firms is that we always respect the client's wishes, even if the client's wishes aren't what we would choose.
Asbestos claims lawyers – like all attorneys – are supposed to let their clients make the important decisions. But we have been told by clients that some lawyers act like they know better, or are worried about their own reputation or paycheck.
With us, you will always be listened to, and you will call the shots.
For example, some clients are opposed to filing a lawsuit under any circumstances.
We always respect their wishes and will work with them to obtain settlements from the asbestos bankruptcy trusts as those claims do not require a lawsuit.
Our job is to help obtain justice, in the way that our clients define it.
If you have any questions about filing an asbestos lawsuit or obtaining compensation for someone harmed by asbestos, please contact our office today.
The only law we practice is asbestos law, and we always welcome the opportunity to answer questions.
Everyone at this law firm is passionate about helping victims of the asbestos industry, but no one more so than Justinian himself.
For Justinian C. Lane, getting compensation for asbestos victims is personal.
Justinian's grandparents and his father all worked with asbestos in their younger years and died from asbestos-related cancers in their later years.
At the time of each of their deaths, no one in Justinian's family knew that they were eligible to file an asbestos lawsuit and to seek compensation from the asbestos trusts.
Because no one in Justinian's family knew their options, they never received any compensation for the death of their loved ones.
There is no risk or cost to speak with one of our staff about your asbestos litigation.
All of our consultations are free, and we offer consultations in person, over the phone, via e-mail, or through any modern video-conferencing application such as Zoom or FaceTime.
We invite you and your family to contact us as soon as you're able to so we can answer all of your questions and decide what options are best for you. No matter what, there is no fee for the consultation, and no obligation to hire us.
Justinian Means Justice.
At the Law Offices of Justinian C. Lane, Esq., we have the resources available to litigate asbestos cases against the largest companies in the world.
We have recovered many millions of dollars for people who were injured by their exposure to asbestos and we would graciously welcome the opportunity to obtain compensation for you and your family.
Every case is different, but we are driven by a sense of justice, and aim to deliver justice for our clients, whatever that means for them.
At AsbestosClaims.Law, we've helped thousands of people who were exposed to asbestos in their job, car or at home.
Can we help you?
FREE CONSULTATION