Sources of Asbestos Exposure / Occupational Exposure to Asbestos
Occupational Exposure to Asbestos
Occupational exposure to asbestos refers to exposure that took place at someone's workplace or as part of their regular job. This can include:
Asbestos industry employees who were regularly exposed to asbestos.
Asbestos fibers are microscopic, but can be dangerous to a person's health. People who worked in mining and processing asbestos for use by other industries were often exposed to asbestos.
Employees at worksites containing asbestos.
Asbestos is highly resistant to heat and acid, so asbestos was used in manufacturing buildings.

In particular, many workplaces like factories, refineries, foundries and shipyards involve high amounts of heat, and were built with a lot of asbestos. All employees at those worksites may have been exposed.
Employees who worked with or around products containing asbestos.
Occupational exposure to asbestos also includes jobs where someone was exposed to a particular product that contained asbestos.

For example, asbestos was used in brake linings and other vehicle parts. Mechanics and others who worked with or around products containing asbestos were also regularly exposed.
Why was asbestos used in so many workplaces like factories, foundries, refineries and shipyards?
Asbestos is very strong and durable, and does not cost a lot of money to produce.
Asbestos is a mineral that appears naturally in the ground. Asbestos is plentiful, and cheap to mine from the earth.
Asbestos manufacturers called their product the "magic mineral" because of its unique properties:
Highly resistant to heat
Asbestos can be mixed with other materials to make them fireproof.
Acid and Alkali-resistant
Asbestos helps to prevent corrosion, and was used in gaskets and refineries.
Insulator
Asbestos is not very conductive of electricity, so it was used to house electrical components.
Non-soluble in water
Asbestos does not dissolve in water, so it was used on ships, and even on some of the earliest steam engines.
Fibrous and strong
Asbestos can be woven into cloth and used as insulation for heating, plumbing and electrical wiring. It can also be sprayed on products to insulate.
Asbestos was mixed with construction materials because of its strong resistant properties:
Plaster
Cement
Drywall
Pipes
Insulation
Ducts
Sealants
Panels
In addition, consumer goods like ironing boards and textiles were made with asbestos.
Were you in an occupation exposed to asbestos?
Construction (Do you need mesothelioma attorneys, construction worker?)
The bulk of asbestos was used in construction materials throughout buildings.
Many people involved in construction and demolition were also exposed to asbestos products.
Even asbestos removal often releases harmful asbestos fibers into the air.
Workers renovating and demolishing older buildings may also become exposed to asbestos-made products. Asbestos removal itself often releases harmful asbestos fibers into the air.
For this reason, workers should always wear proper protective clothing before trying to remove asbestos.
Employees who worked with or removed asbestos but were not provided with proper protection may have legal claims for their asbestos-related injuries.
Industrial Sites
Because of its strength and resistant properties, asbestos was especially used in:
Factories
Shipyards
Foundries
Refineries
Many worksites regularly exposed workers to asbestos inhalation, including many employees whose jobs did not directly involve asbestos.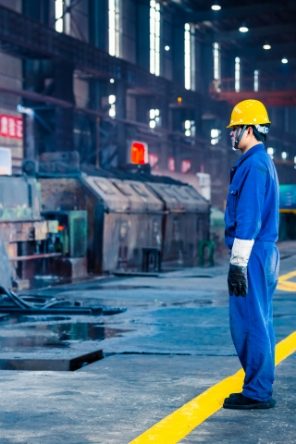 Vehicles
Asbestos was used in all types of vehicles, including:
Cars
Trucks
Trains
Motorcycle
Buses
Military
Asbestos was a part of manufacturing many automobile parts that were exposed to heat, including clutches, brakes, gaskets insulation, hood liners and auto body parts.
Because asbestos was used in brakes and brake linings, the heat and pressure of automobile braking can release harmful asbestos dust into the air. Mechanics working on or near an older car's brakes can end up inhaling asbestos. People who work on cars or are regularly exposed to automobile exhaust may have inhaled asbestos dust.
Worker are at risk of exposure to asbestos if they were employed in:
Vehicle Assembly
Vehicle Repair
Truck Stops
Transportation
Automotive Supply
Toll Booth / Drive-Thru
U.S. Armed Forces
Asbestos was used by the U.S. Armed Forces to fireproof all types of vehicles, housing and even military uniforms.
U.S. Navy boats were built with asbestos throughout their walls and machinery. Asbestos fibers lingered in the boats' many confined spaces, exposing sailors throughout the ship.
Hundreds of thousands of veterans were exposed to asbestos fibers during their ordinary course of duty.
The Department of Veterans Affairs, or V.A., frequently compensates veterans and their loved ones for asbestos-related illnesses which occurred or were made worse during service.
Learn more about exposure to asbestos in U.S. military service.
Note: People who lived with someone that worked around asbestos may also be at risk of asbestos-related illnesses.
Asbestos is a very dusty mineral that sticks to clothes and other surfaces.
Spouses and other family members may have been exposed to asbestos by washing work clothes or sharing a home or vehicle with a worker exposed to asbestos.
Learn more about household exposure to asbestos.
Financial Compensation for People Injured by Asbestos Exposure
Millions of workers and their families were exposed to asbestos because the asbestos industry hid the dangers of its product.
Courts ordered that billions of insurance dollars be placed in trusts to compensate people with asbestos-related illnesses.
But nearly 40% of the funds have still gone unclaimed by the people they are intended to help.
Justinian Means Justice.
Asbestos-related diseases can take a long time to appear, and usually get worse.
Even a small exposure to asbestos can cause a range of health problems decades later. These illnesses can include asbestosis, pleural plaques, mesothelioma and other cancers.
Asbestos can cause harm many decades after exposure, and health researchers predict that over the next decade, thousands of people will die from asbestos exposure.
If you have ever been exposed, talk to a health professional about screening for asbestos-related illnesses like asbestosis and lung cancer.2
In addition to healthcare bills, asbestos-related illnesses can lead to lost wages, an inability to work, disabilities, a degraded quality of life and even a fatality.
But under state and federal laws, people harmed by asbestos exposure are often entitled to compensation for their injuries.
In many cases, they do not even need to file a lawsuit.
Even regular cigarette smokers who developed lung cancer can often recover money if asbestos exposure made their health problems worse.
We use a comprehensive database of asbestos industry info and cutting edge medical research to gather all the evidence needed to prove your case.
In two decades of representing clients harmed by asbestos, we have built a database of:
All the worksites and products that contained asbestos.
All available scientific research into the health effects of asbestos.
We leave no stone unturned to show that how you were exposed to and harmed by asbestos.
Our archival database has virtually all available information on asbestos use and its health effects. We can conduct a search of your workplace or illness.
For Justinian C. Lane, Esq., asbestos injuries are personal.
My grandfather was exposed to asbestos aboard World War II Navy ships, and later on, as a mechanic. My grandmother was exposed washing his work clothes, and in her soldering job at an electronics factory assembly line. Both of them died of lung cancer.
In the years before he had me, my father worked at a titanium foundry, at a time when asbestos was still widely used to insulate against heat.
I never had an opportunity to see if any of them were exposed, but my father, grandfather and grandmother all died of cancers that can be associated with asbestos.
Free consultation with a seasoned asbestos claims attorney, with no obligation.
If you or your loved one was exposed to asbestos, speak to a healthcare professional about getting tested for respiratory illnesses associated with asbestos exposure.
If you have been diagnosed with an asbestos-related illness, you should discuss your available legal options with an asbestos injury attorney at the law offices of Justinian C. Lane, Esq. – PLLC
We can set up a consultation in person, by phone, or video conference – whatever makes you most comfortable. I will listen to your story and explain all your options, including a reasonable estimate of how much compensation you are likely to receive from the asbestos trusts based on your story.
We have the resources available to litigate asbestos cases against the largest companies in the world. We have battled bullies and earned millions of dollars in compensation for clients that were injured by asbestos.
Every case is different, but we are driven by a sense of justice, and aim to deliver justice for our clients, whatever that means for them.
We do not accept defeat. Unless we get you money for your injuries, you don't pay us a dime.
Your Rights Can Be Lost If You Wait
There are laws that limit how much time you have to file a lawsuit after being injured. They are known as statutes of limitation.
Most statutes will begin to run from the date of injury. That means the 'ticking clock' starts the day that you were diagnosed with an asbestos-related illness. If you are filing a wrongful death claim, the statute of limitation usually dies on the date that the loved one passed away.
Do not wait to find out when your claim begins. If you believe you are entitled to compensation for your asbestos-related illness, call, text or email the Law Offices of Justinian C. Lane, Esq. – PLLC to understand your rights.
No matter what, there is no fee for a consultation, and no obligation.
If you were harmed by asbestos exposure, $30 billion dollars was set up to help pay for your healthcare bills, treatment travel costs, inevitable funeral costs and support your family.
And it will cost you nothing to file a claim.
Don't wait to find out if you were exposed to asbestos. You may be at risk of health problems, and have an opportunity to obtain early treatment.
And if you are already experiencing symptoms of an asbestos-related illness, find out if you may be eligible for compensation that can help reduce your financial strain and provide support and a legacy for your family.
Asbestos can take decades to cause illness like mesothelioma and lung cancer.
At AsbestosClaims.Law, we've helped thousands of people who were exposed to asbestos in their job, car or at home.
Can we help you?
1 A new trajectory approach for investigating the association between an environmental or occupational exposure over lifetime and the risk of chronic disease: Application to smoking, asbestos, and lung cancer, Emilie Lévêque, Aude Lacourt, Viviane Philipps, Danièle Luce, Pascal Guénel, Isabelle Stücker, Cécile Proust-Lima ane Karen Leffondré, Public Library of Science (August 12, 2020).
2 Occupational exposure to asbestos: Population at risk and projected mortality‐1980–2030, Dr. William J. Nicholson, PhD, George Perkel, MA and Irving J. Selikoff, MD, American Journal of Industrial Medicine (1982).