Asbestos in Homes and its Hazards
If you live in the United States, you may have issues with asbestos found in homes and other places built in the 1950s. You can find asbestos in insulation material in furnace ducts, boilers, and steam pipes. You will find asbestos in flooring tiles, wood-burning stoves, furnaces and cement. Even soundproofing and ceiling materials contain asbestos. The roofs of buildings also have the material. Things used in your homes, such as fireproof gloves and ironing board covers contain asbestos. You will see asbestos used in clutches, brake pads, gaskets, and linings in cars.
Why is asbestos harmful to you?
Asbestos products can cause harm to you because of the fibers in them. These float in the air and when you inhale you carry some of these fibers into your lungs. These coat the lining of the lungs. This will lead to health issues, which can also lead to cancer. You would have met people working in factories producing asbestos who suffer from diseases due to exposure risk.
How do old buildings release asbestos fibers?
You can really face trouble when you want to rebuild a home. To rebuild, you have to bring down structures that may have asbestos materials in them. When you bring down existing materials with asbestos, you run the risk of releasing asbestos fibers and dust. This is dangerous for you and the workers. On the other hand, if you are not disturbing or removing any materials with asbestos in them, the asbestos in an enclosed space is harmless.
There are laws and regulations covering asbestos removal procedures.
When you rebuild by removing existing structures, you will need to follow rules made by statutory authorities. This is to ensure that the place is free from asbestos fibers. Therefore, before you ask workers to rebuild, you must check for asbestos fibers and dust.
How can you check for asbestos in the air?
You can check for asbestos in the air by doing an asbestos air test.
The government has issued guidelines to conduct an asbestos air test.
It asks an independent licensed asbestos assessor to assess the place. The assessor would carry out the necessary tasks to test the air and issue clearance certificate.
What is an asbestos air test?
An asbestos air test involves several stages.
STEP ONE: Visual Inspection
The assessors will first make a visual survey of structures. They will identify materials with asbestos in them. If there are any, an asbestos air test will be necessary.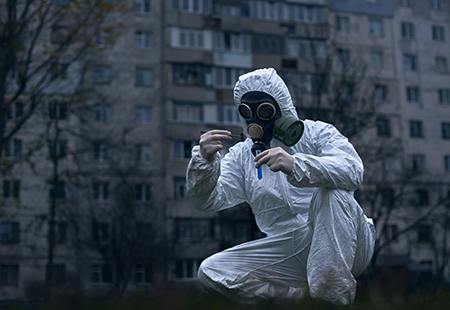 STEP TWO: Sampling the Air
The assessors will use a special filter and a sampling pump to draw a sample of air. They will draw samples from various areas within the place where the removal of structures has taken place.
STEP THREE: Testing the Sample
Qualified and authorized assessors use special microscopes, such as electron microscopes to test the levels of asbestos in the air.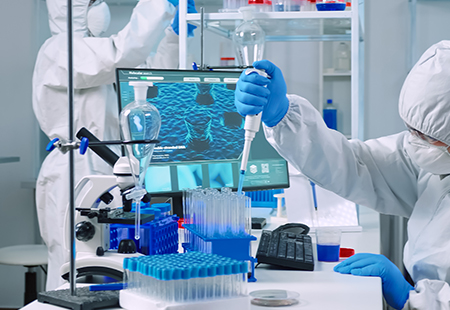 Two methods to test the air for asbestos:
Phase Contrast Microscopy (PCM)
Transmission Electron Microscopy (TEM)
Many assessors use the Phase Contrast Microscopy (PCM) method.
Professional asbestos assessors also use the Transmission Electron Microscopy method.
Easier and cheaper to conduct.
Assessor can give the results on site.
PCM can identify fibers of all materials.
But, this method cannot separate the asbestos fibers from non-asbestos fibers.
More costly and time-consuming.

Must be conducted in a laboratory.

TEM can test asbestos fibers more accurately.

TEM can also identify asbestos fibers from non-asbestos fibers.
Transmission Electron Microscopy (TEM) is generally required after demolition or significant remodeling.
After breaking down the structure and removing asbestos materials, a building's owner or residents generally should schedule an asbestos test via the TEM method. Its results are more accurate.
People can move into a building safely after the TEM gives a certificate that its air has been tested and is free of asbestos contamination.
What is the Law Governing the Use of Asbestos?
The Clean Air Act (CAA)
As per the Clean Air Act (CAA), EPA is the agency that develops and enforces regulations to protect the public from exposure to airborne asbestos fibers that can cause lung cancer, mesothelioma, and asbestosis.
EPA and Asbestos National Emission Standards for Hazardous Air Pollutants (NESHAP)
EPA implements the Asbestos National Emission Standards for Hazardous Air Pollutants (NESHAP) governing use of asbestos. The government has amended these laws several times. The government has laws to protect the public from asbestos exposure. The EPA and other federal agencies implement these laws. You can get more information on the various laws and regulations here.
What To Do About Potential Asbestos Exposure
If you believe you may have disturbed asbestos in a home, office, or other structure, you should immediately contact your local health authority. Most states and cities offer asbestos testing services and maintain public lists of licensed asbestos removal companies.
Many businesses and homeowners will want to conduct air quality tests to see if the asbestos fibers have scattered to or contaminated any surrounding sites.
If you believe that you were exposed to asbestos, you could be entitled to significant compensation—money you could use to cover the costs of asbestos removal services, pay for medical treatment, and preemptively protect your physical well-being.
If you have been diagnosed with an asbestos illness, you may qualify for compensation without filing a lawsuit.
AsbestosClaims.law is your comprehensive resource for all things asbestos. We hope this information helps you. If you have any additional questions or concerns related to asbestos, including testing for exposure or how to file a claim, please get in touch by email at [email protected], or call or text us at (833) 4-ASBESTOS (427-2378) or (206) 455-9190.
Sources:
https://archive.epa.gov/region9/toxic/web/pdf/epa-ert-asbestos-sampling-sop-2015.pdf
https://www.epa.gov/asbestos/asbestos-professionals
https://www.cpsc.gov/safety-education/safety-guides/home/asbestos-home
https://www.epa.gov/asbestos/asbestos-laws-and-regulations
https://www.oracleasbestos.com/blog/guide-to-asbestos-air-testing/#:~:text=Asbestos%20background%20air%20testing%20is,task%20is%20being%20carried%20out
https://www.epa.gov/asbestos/information-owners-and-managers-buildings-contain-asbestos#renovations
https://www.scientificservices.org/services/asbestos/news/2021-12-20-updates-to-asbestos-air-testing-procedures-explained/
https://www.epa.gov/stationary-sources-air-pollution/asbestos-national-emission-standards-hazardous-air-pollutants
https://www.epa.gov/asbestos/overview-asbestos-national-emission-standards-hazardous-air-pollutants-neshap
https://www.webfx.com/tools/read-able/flesch-kincaid.html